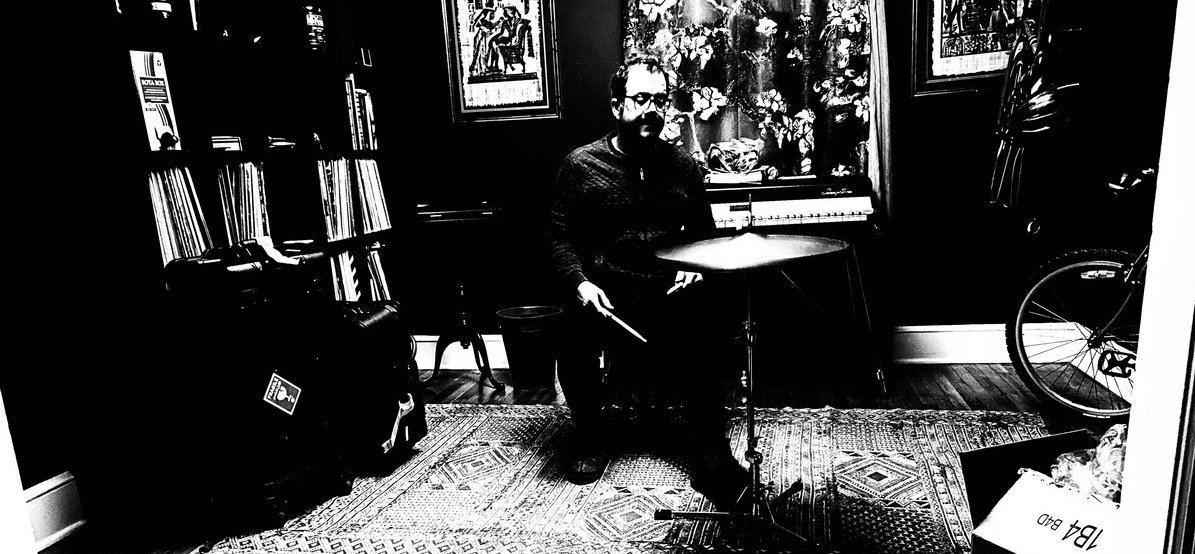 Derek Almstead boxes, and more music news and gossip
THE HITS KEEP COMING: There's a new Modern lamps get out now named Lucid Mapping which presents the duo project of experimental composers Grant and Rachel Evans. The cassette version of this release is limited to 25 copies. Because I don't want to be wrong, I will quote them directly when they mention that this has "gong, singing bowl, bells, e-sitar, cloud flute, percussion, piano, bass, erhu, zither, lap harp, Rhodes, guitar, tape loops and electronic piano" on it. Featuring two tracks, side A ("South Mars Onsen") begins and sustains for almost five minutes solid hand percussion that emphasizes Evans' signature drones until let them be overwhelmed by the nod to the Bauhaus Easter eggs "Bela Lugosi is dead. Overall, it's the more aggressive of the two tunes here. The B-side ("Meltwater Sutra") is piano-based but doesn't always sound like it. Layers and layers of not obnoxious noise bury it for the most part, with a few exceptions. Find this and more at hookervision.bandcamp.com.
YOU ALL COME: The Hibbs Family Group and Key Tyler released a four-song tribute to the late Townes Van Zandt last week. It's called Classic cities and is the first group in a planned batch of Van Zandt tracks covered by local artists and musicians. Once the whole batch is finished, the idea is to output everything in full. Zandt's songs performed on this first release are "Pancho And Lefty", "If I Needed You", "No Deal", and "Silver Ships Of Andilar". Of these, expect me to judge the unassailable "Pancho And Lefty" the hardest. And I'm happy to report that Hibbs and Key produced a very nice version with a nice extended intro and full arrangement. Word from the band is that you can find it at bigshinyshedrecords.bandcamp.com but, as of this writing, it's not there yet, so go ahead and check it out again.
HELLO, IT'S HIM: Long-time live engineer and recording artist Derek Almstead (Faster Circuits, Olivia Tremor Control) have just released their first album under their own name. The five-song release is titled Boxes and, musically speaking, there's a subtle linear motion theme throughout. While loosely inhabiting the related camps of psychedelia and indie rock, Almstead never really forcefully flies the flag of either. On the contrary, his songs here move steadily with beautiful slices of high-level, sometimes momentary melody. For example, the one-word chorus of "Saboteur" is easily as catchy as anything his other bands have ever done. On "No Role Model", he takes a guitar cue from Hall and Oates which he uses to introduce, then subside, a deeply sleepy vocal and heavier melody. Boxes is a unique entry in the canon of "guy-who-was-in-the-bands-uses-his-name" type recordings in that there is no sense of novelty and it has Something to say. What exactly it is, you will have to find out for yourself. So start looking at derekalmstead.bandcamp.com.
GET OUT OF: Composer Andrew Steck released a new EP this week which he named The mouth remains closed during intense activity, which locals will recognize as the slogan on the sign that adorns the Flicker Theater & Bar. The sign itself is a 1991 creation by Athenian artist Cal Clements. Steck informed me that these tunes were a departure from his orchestral work, and they are to some extent which, to my ears, is primarily a difference in instrumentation and not compositional style. There's a lot of subtle drama in the almost trip-hop "Reflections." Likewise, trance-oriented "The Ocean In A Drop" and heavy-keyed "The Ondulating Parade" lend similar vibes. Find it on Steck's arfusrecords.com and andrewsteck.bandcamp.com sites.
LOOK FOR: It's only been a hundred years since anyone gathered on the Roof of the Georgia Theater to jam to live music. Well punters, big bosses at GATH have felt your pain and are introducing remedies. Recently announced upcoming rooftop concerts include McKinley James (Saturday March 19); Palace Doctor, Overseas and Exclusive system (Tuesday, April 5); and Jive Talk (Saturday, April 23). Now I know you all saved your theater dollars for jackyl (main room, Saturday April 2), but it wouldn't hurt to climb the stairs either. For more information, please visit georgiatheatre.com.
BOILING POINT: Hardcore band from Athens SecCon released a two-song EP last month named Brain Solvent Sampler. As you can imagine, the whole thing is a very quick discussion. It's loud, rowdy and more than a little traditional. Indeed, the creatively structured "Wheel of Pain/The Kids Will Have Their Say/Interlude I" drops an old SS Decontrol song right in the middle. The second track, "Quick to Forget/Interlude II", almost sounds like a youth team anthem if Greg Ginn (Black Flag) had taken it. Not a bad way to spend about eight and a half minutes. Find it at futileforce.bandcamp.com.
Do you like what you just read? Support Flagpole by donating today. Every dollar you donate helps fund our continued mission to provide Athens with quality, independent journalism.