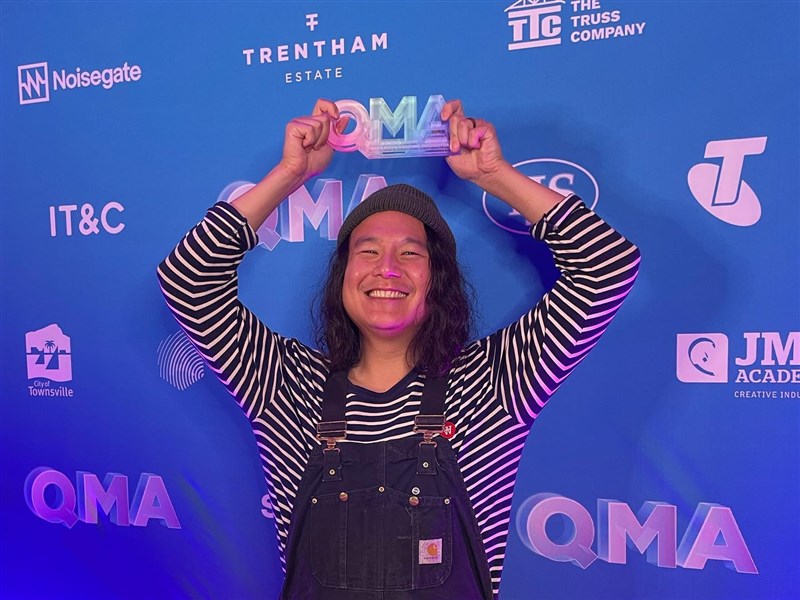 Queensland Music Awards winner embraces Taiwanese-Australian identity
Taipei, April 2 (CNA) For Taiwanese-Australian multi-instrumentalist Matt Hsu, his 70s-inspired hip-hop track "Welcome to the Neighborhood: Taiwan" (就當家裡), which won an award at the Queensland Music Awards 2022 (QMA) earlier this week was part of a process of addressing internalized racism growing up in Australia.
The groovy track, which snagged the QMAs World category award on Tuesday, utilized more than 15 different instrumental layers including classical Chinese phrases and harmonic lyrics by Australian-Taiwanese jazz/R&B singer Cait Lin (凱琳) and hard-hitting rhymes from Taiwanese rappers Chunyan (春艷) and Ill Mo (老莫), while inviting listeners to feel at home when visiting Taiwan.
During his onstage acceptance speech at Fortitude Music Hall in Brisbane, Hsu said: "This song is part of a process that has made me come to grips with my internalized racism by asking myself why I tried so hard to integrating myself into a dominant white culture, a white dominating the music industry, and realizing how great it is to be Taiwanese and Australian."
Born in Brisbane in 1986 to Taiwanese immigrants, Hsu said in an interview with CNA on Saturday that he tried to be as white as possible while growing up to fit in with other children to avoid directed racism. against the Asians at the time.
At school, while growing up in Australia, Hsu experienced or witnessed white Australians randomly telling Asians to go back to their home countries, graffiti in public toilets telling Asians to go back at home and other types of harassment in public places.
"So I would try to be as white as possible, so I wouldn't be victimized and in doing that, I thought the best way to be as white as possible was to just be a scruffy independent kid, doing skateboarding, listening to metal and punk music, being so far from the Asian stereotype of piano and violin, and being good at math and science," Hsu said.
And for the most part, he was able to avoid being the target of racist remarks.
"Yeah, for the most part it worked. I kind of got to be known as the Asian guy who hangs out with rebellious white and mixed-race kids," Hsu said.
The good thing is that as an adult he now finds there are fewer racist taunts in Australia than when he was younger.
"As you get older, only very rarely, maybe on a day like Australia, someone might shout from a car 'You don't belong here, go back where you came from,'" Hsu said.
Also, as an adult, he had the opportunity to meet more Asians through music, which led him to wonder why he felt embarrassed to be Asian when others didn't. were not doing.
"These people are really proud of their culture and they're also great people, really cool and they don't have that shame of being Asian that I have," Hsu said.
"Through music and meeting musicians from different backgrounds who are really proud of where they come from, those layers of self-racism have kind of come down to a point now where I'm really proud to be Taiwanese and Australian. , and I want to show that element of myself through my music every time I make music," Hsu said.
Hsu, who now leads 20 members of his ensemble, Matt Hsu's Obscure Orchestra, and won his first award at the QMAs in 2020, plans to visit Taiwan this year.
Its ideology for the whole is underpinned by inclusivity, gender equity, inclusion and visibility, which is reflected in the diversity of the group, which includes Indigenous First Nations, Blacks and others. people of color, as well as non-binary and trans artists.