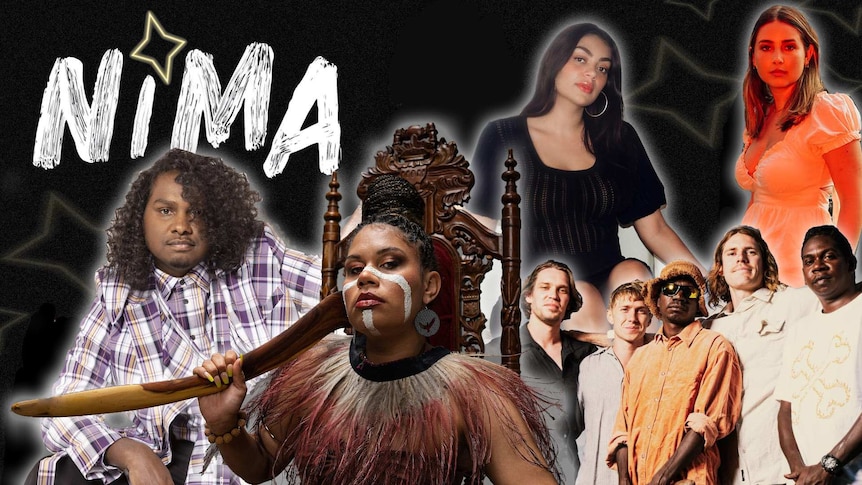 Barkaa, Baker Boy and Thelma Plum top National Indigenous Music Awards nominations
It's been another incredible year for First Nations music, take a look at this year's nominees for the National Indigenous Music Awards (NIMAS).
Barkaa leads the group of talented finalists this year. Powerful rapper Malyangapa and Barkindji earn four nominations, including Song of the Year for "King Brown" and New Talent of the Year. NIMA favorite Baker Boy is close behind with three names including Artist of the Year and Album of the Year for his inspirational debut Gela.
Loading
Dallas Woods, Baker Boy's mentor and collaborator, is also in the mix for album of the year with his debut project. Julie's Boyalongside Birdz for last year Legacy, national treasure Archie Roach (did you catch him on Like A Version?), Emma Donovan & The Putbacks, and Jem Cassar-Daly, aka the indie pop offspring of country legend Troy Cassar-Daley.
Thelma Plum and King Stingray are also up for Artist of the Year. Both are also nominated in the Song of the Year category – songwriter Gamilaraay for "Backseat of my Mind" and surf-rockers Yolŋu for their hottest bush-disco belt "Milkumana" (#56 in the countdown to 2021).
Loading
Also in the mix are established names – like pop sensation Jessica Mauboy, the deadly Mo'ju and Electric Fields – as well as first-time nominees Xavier Rudd, producer and wife Yuggera dameeeela, Lil Kootsie, the aforementioned Jem Cassar- Daley, and Dobby, a murraarri/Filipino rapper and multi-instrumentalist producer.
Woorabinda wonder Miiesha (2021 Song of the Year for 'Damaged') and The Kid LAROI (2021 Artist of the Year) were nominated again after big wins at last year's ceremony.
Live and come back to Larrakia Country!
Over the past two years, NIMAs have had to innovate around the pandemic, forced to go virtual in 2020 and as a two-hour special on triple J's Blak Out in 2021.
This year, the NIMA finally return to the land of Larrakia, taking over the Darwin Amphitheater on August 6 to celebrate with the community. And there will be amazing First Nations programming under the stars!
King Stingray and Thelma Plum lead the live lineup, alongside performances from Emma Donovan & The Putbacks, Yirrmal, J-MILLA, our winning triple j Unearthed comp. Plus, Birdz will be joined by his cousin and Butchulla singer, Fred Leone, for what is sure to be an electric moment.
Loading
"We are thrilled to reunite with NIMA in real life," said NIMA Creative Director Ben Graetz. "The awards have always been a great place to connect with the crowd and for artists to come together to celebrate their art and culture.
"…Coming home and being together to celebrate music will be a real homecoming for our industry."
Tickets for NIM 2022 are on sale. Find more information at nima.musicnt.com.au and view the full list of nominees below.
2022 National Indigenous Music Awards Nominations
Artist of the year
Kid Laroi
Jessica Mauboy
baker boy
Electric fields
Thelma Prune
King Stingray
song of the year
Thelma Plum – 'Back Seat of My Mind'
Miiesha – "Made for Silence"
King Stingray – 'Milkumanna'
Mo'ju – 'Sometimes'
Barkaa – 'Brown King'
Xavier Rudd – 'The Cannonball and the Chain'
album of the year
baker boy – Gela
Emma Donovan and the comebacks – Under these streets
Jem Cassar Daley – I don't know who to call
Birdz- Legacy
Dallas Woods – Julie's Boy
Archie Roach- My Songs 1989 – 2021
Movie clip of the year
Tasman Keith – 'LOVE TOO SOON'
Barkaa – 'Brown King'
Barkaa – 'Matriarchy Blak'
Baker Boy – 'My Mind' ft. G-Flip
Jessica Mauboy – 'Automatic
New talent of the year
barka
Jem Cassar Daley
Lil Kootsie
Tilly Tjala Thomas
Dobby
dameeeela
Community Clip of the Year
Koori Mob – Our Country, Our Life – Desert Pea Media
Gumbaynggirr Collective – Through the Smoke – Desert Pea Media
Doomadgee, QLD – Where We Want To Be – Aboriginal Outreach Project
Numbulwar, NT – Loud & Proud – Aboriginal Outreach Project
Ballarat, VIC – Don't Give Up – Aboriginal Outreach Project
Job , updated