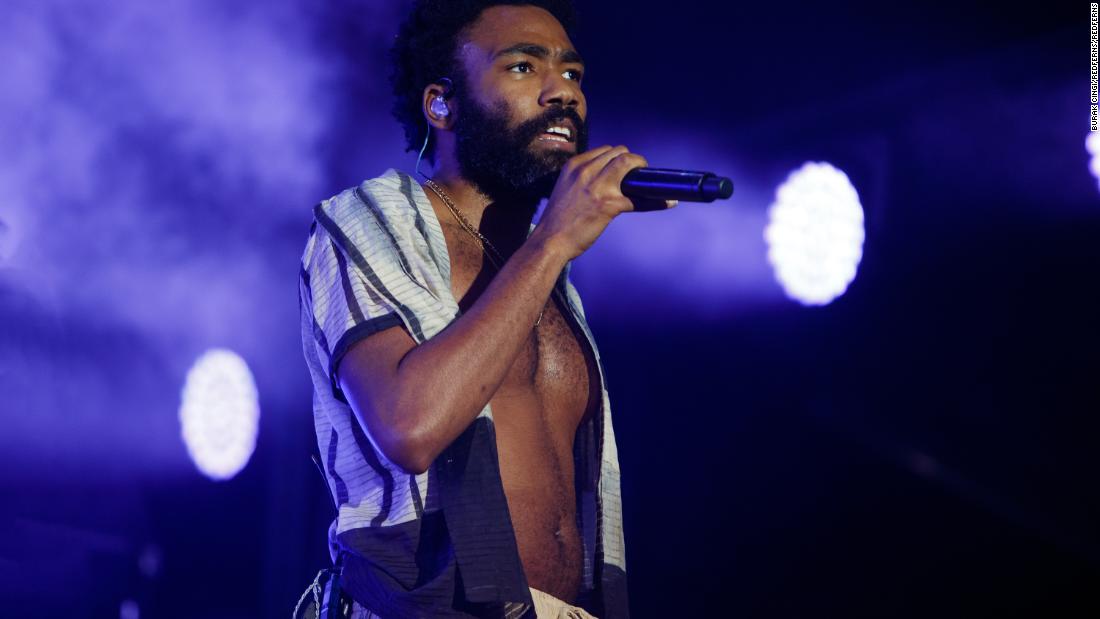 Here are the political and social clips nominated for Video With a Message at the VMAs
The category is relatively new and has been won by videos such as Lady Gaga's "Born This Way" in 2011, Macklemore and Ryan Lewis' "Same Love" with Mary Lambert in 2013, and Beyoncé's "Pretty Hurts" in 2014. Last year, days after the deadly white supremacist rally in Charlottesville, Va., Susan Bro, the mother of counter-protester Heather Heyer who was killed at the rally, introduced the category, then called "Best Fight Against the system".
Director Andy Hines, a former winner who is up for the award again this year, called Video With a Message, "the only VMA that I think deserves a nomination." Here is an overview of the videos that won the award in 2018:
"This Is America" ​​was an immediate sensation, racking up over 80 million views on YouTube within a week, soaring to the top of the Billboard Hot 100, and inspiring articles, Twitter feeds, and conversations about its meaning. The video was directed by Hiro Murai, who has worked with Donald Glover on other projects, including the FX series "Atlanta." Murai said
vanity lounge
that Glover presented him with a video that showed him shooting a man and a church choir, and it grew from there. "Those were the two things he presented to me, and from that, and the way he mimicked the dance moves, we abstractly started bouncing the ball back and forth," said Murai. Glover said Murai handled the "tricky" concept well. "Hiro is really good at restraint," he said.
"Freed" – DeJ Loaf and Leon Bridges
On "Liberated," DeJ Loaf and Leon Bridges sing about living free and not caring what other people think, and for the music video, directed by Calmatic, they asked others what it means to be liberated. for them. "Freedom," "own my voice," and "be you" were some of the responses, and the video focuses on people of color and members of the LGBT community ("I won't judge who you love, or your brown skin," sings DeJ near the top of the track). For DeJ, release "is about breaking free from negativity, doubt, or anything that binds you. It's about feeling confident, proud and alive," she said in a Columbia statement.
"God's Plan" – Drake
"God's Plan" was a huge hit (11 weeks at No. 1 on the Hot 100) on a huge album full of them (Drake's
Scorpio
set a new streaming record and includes three No. 1 hits), and its music video had a massive budget of $996,639.90 that was fully distributed, according to the video's opening credits ("Don't don't tell the label," he said). Drake presented checks to a Miami high school, gave a University of Miami biology student a $50,000 scholarship, and paid for all the groceries for a store full of customers. When
Molten
asked five religious leaders what they thought of the video, Mona Haydar of NYU's Islamic Center said she had it "in tears" and "made me wish we were talking seriously about things like reparations in America for native and black people." "I love that Drake uses his influence to serve love, beauty and dignity, with honor and grace," she said. Drake called the video "the most important thing I've ever done in my career."
"PYNK" – Janelle Monae feat. Grimes
The 48-minute short film released with Janelle Monáe dirty computer The album is set in a dystopian world where people who look different or don't line up are considered "dirty," and the video for "PYNK" serves as a flashback before the bad guys take over. . "I was listening to the lyrics a lot and came up with ideas and sent them to Janelle's team," director Emma Westenberg told COVER/LINE. "We created this world that became the music video." The world they created is very pink and very feminine, with hints of female sexuality and the female body. The message is feminist, but it is also a message of equality. As Monáe sings, "Deep inside, we're all just pink." Westenberg said she considers Monáe an activist ("She doesn't like to be called that, but I think she is") and said she wanted to make a video that "captured her spirit" . "It was truly a joy to learn from her and collaborate with her," she said.
"Guardian" – Jessie Reyez
The music video for Jessie Reyez's "Gatekeeper," about an aspiring singer under pressure from a producer to advance her career, is based on a true story. Around 2012, a "big producer" proposed and threatened Reyez, she said
Billboard
. "I was about to sell my soul that night; I was about to crack." The song is written from the producer's perspective with lines like "We're the keepers / Spread your legs, open up", sung with dark, twisted vocal effects. The three-and-a-half-minute video, showing Reyez in a vehicle with the producer, is cut from a longer film about the night. "Everything in there happened," she said.
"1-800-273-8255" – Logical exploit. Alessia Cara & Khalid
Named after the National Suicide Prevention Lifeline's phone number, "1-800" was the first top ten hit by Gaithersburg, Maryland's own Logic. Director Andy Hines told COVER/LINE that Logic offered to make a video about "a young black man who is confused or questioning his sexuality in high school" and from there he wrote the story. . In it, the high school student gets caught with a boy, is bullied for being gay, and contemplates suicide. Hines called the filming "taxing", as his wife had just given birth three days earlier. "It was a very interesting experience for me just in terms of empathy and general perspective," he said. "It was an emotionally charged experience, for sure." Hines hopes people will take something away from the video, regardless of their background. "It's for the kids in the story, it's for the bully. There's a lot of different perspectives, people can look at this video in different ways," he said.