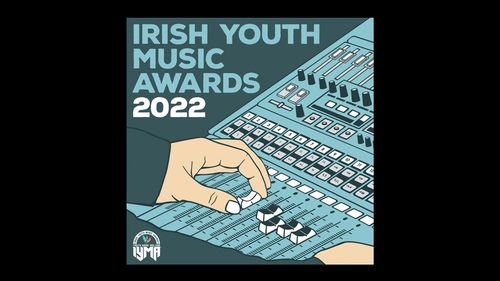 Irish Youth Music Awards announce 2022 national event
Youth Work Ireland's Irish Youth Music Awards (IYMA) are delighted to announce the return of their national all-ages event at an in-person event on Saturday 28th May at the RDS. This acclaimed event will offer young creatives and musicians from across the country access to some of Ireland's top industry professionals for workshops and exclusive performances. To buy tickets here.
This year's event will feature leading creative industry professionals including chart-topping artists Hudson Taylor, RTÉ Choice Music Prize song nominees True Tides, TikTok sensation Lea Heart and Dave RTÉ 2FM's Treacy will be offering a DJ workshop for budding DJs and the BIMM Institute Dublin will be hosting a song writing workshop with much more to be announced.
National Irish Youth Music Awards Day will also feature performances by young musicians aged 12-19, performing on two stages throughout the day and attendees will also be able to visit the IYMAs Market which will offer hands-on demonstrations and will give attendees the opportunity to learn new skills around the creative and music industry with BIMM Institute Dublin, Girls Rock Dublin, Music Maker and RTÉ 2FM all in attendance, the latter broadcasting live from the event.
Tickets for the national Irish Youth Music Awards event are available now exclusively from IYMA for €20 per person here. The event is an all ages, alcohol and drug free event.
IYMA Director Barry Lennon said, "We are delighted to be returning to a real-world event this year after running our event online for the past two years. It's great to create an all-ages event like this that provides a space for young people to learn more. on the creative and musical industries. It's more important than ever that we support and nurture our creative industries and future creative leaders and we're excited to be a part of that through our IYMA hubs located across the country and through this all-ages event. We look forward to welcoming everyone to the RDS on Saturday May 28."
RTÉ 2FM Music Director, Adam Fogarty said "We are delighted to support the IYMAs program and their national event at the RDS on Saturday 28th May this year. It is so exciting to be part of a program that supports young creatives and musicians across Ireland and we are delighted to be part of This journey is extremely important for 2FM to allow young people to enter the music industry and to accompany them in the development of their careers"
Partners and supporters of IYMA include the Department of Children and Young People's Affairs, RTÉ 2FM, BIMM Institute Dublin, IMRO, European Year of Youth, Music Maker, Gaisce – The President's Award, National Lottery and Youth Action Northern Ireland.
For more information, visit www.iymas.ie