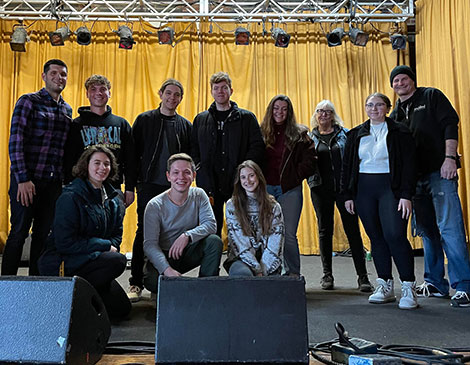 Local colleges offer real music industry experience
Beyond all of the traditional business, health, education, and science degrees offered at Baldwin Wallace University, one degree has gained traction in recent years, leading graduates to unique jobs in the music industry.
The university's music business major, established in 2018 as an offshoot of its arts management major, has propelled students into careers at the Rock & Roll Hall of Fame, Agora and Cleveland radio stations. Some have taken positions leading local organizations like the Canton Symphony Orchestra, or touring with major artists like Luke Bryan and Kacey Musgraves.
In its four-year run, the music industry major has attracted students from across the country and even garnered national attention. It recently landed on Billboard's 2022 ranking of top music business schools, also making the list in 2020.
BWU's focus on the music industry stands apart from Northeast Ohio schools with stellar music majors (look no further than the Cleveland Institute of Music or Oberlin College for the nationally ranked performance-based programs). But BWU centers its industry program on entrepreneurship – how artists, technicians, managers and more can make a living on the stage.
"I think we've realized that we're producing classical performers without, necessarily, jobs to support them," says Sean Murphy, BWU's regional music industry diploma coordinator. "Many schools have sought to develop outside of the traditional conservatory. We are perhaps trying to democratize the conservatory a little, and to offer these programs that correspond more to what we see today for 18-24 year olds.
The four-year bachelor's degree includes courses in copyright, touring, live music, contracts, publishing, management, marketing and more – but much of what sets the program apart is its direct involvement with the Cleveland music scene.
Guest speakers for the classes included various local music personalities, such as Tragic Hero Music Group vice president Randy Chase, Alternative Press Magazine founder Mike Shea, and Lambda Productions owner Hadden Hippsley. A landmark music industry project allows students to host and promote a concert at a Cleveland venue each year. Some classes even attended the Rock & Roll Hall of Fame induction ceremony.
Local colleges and universities regularly offer music industry courses, but few offer full degrees shaped by the inner entrepreneurial workings of music scenes. Locally, two colleges focus on the technical aspect of musical creation; Kent State University hosts a music technology major and Cuyahoga Community College (Tri-C) has a recording arts technology major.
"Schools are embracing this type of teaching at their own pace," says Murphy. "There don't seem to be as many schools that have adopted a stand-alone degree in this area, which would take it beyond additional education. This is career-focused content – employable skills in this industry – rather than doing something more. »
This approach is spreading locally. This fall, for the first time, Tri-C's Recording Arts Technology (RAT) program entered into an articulation agreement with music industry major BWU. Students can study for two years at Tri-C and then transfer to BWU for the final two years of the program, earning a bachelor's degree.
Vennie Palmer, RAT program manager at Tri-C, sees the deal as another way to foster the success of the community college program. Since its inception in the early 2000s, RAT graduates have run operations at Playhouse Square, toured with Lady Gaga and Alanis Morissette and — even — won Grammy awards for their production work with musicians.
"We have a wide range of student success stories," Palmer says.
Palmer himself is one such success story. Palmer originally earned a business degree at BWU in 2004, then enrolled part-time in the RAT program in 2012, which he completed in 2016.
"I got married, I had kids, but I really wasn't working because I didn't have the guts to go to Baldwin Wallace for what I really wanted to go to Baldwin Wallace for, that's- i.e. the music," says Palmer. "As soon as I started the Recording Arts Technology program in 2012, it was like the lights went on. It all made so much sense.
After earning a master's degree from Full Sail University last year, Palmer interviewed and became Tri-C's RAT program manager in November 2021.
Since her debut, Palmer has introduced new programs, including a new series of Masterclass lectures — and also led efforts to connect with BWU's Music Industry program.
The partnership is symbiotic, aiding BWU's music industry program by opening access to Tri-C's extensive recording equipment.
"We don't have the robust infrastructure and technology that they have there. We have a recording studio in the basement here," says Murphy. "I think both institutions have a lot to offer each other."
Get a head start on the weekend by signing up for our free weekly "In the CLE" newsletter – your guide to fun through The Land. Arriving in your inbox every Wednesday, this weekend to-do list has you covered on everything from concerts to museum exhibits — and more. Click here to subscribe.