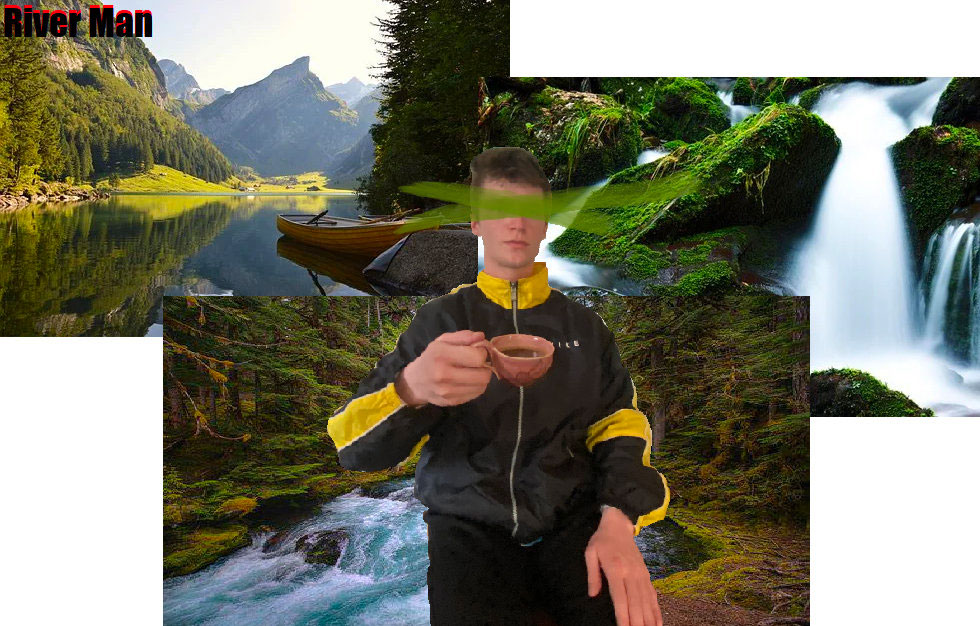 River Man's Bedroom Folk, and more music news and gossip
WEDNESDAY EVENING MEETING: Rabbit Hole Studios (1001 Winterville Road) will host the irrepressible Cassie Chantel Wednesday, August 10 at 8 p.m. Also playing tonight is The burning sun of Burlington, Vermont. Should be a well-matched bill between the psyche-freak-folk leanings of the latter and the perpetually poignant, personal hip hop of the former. Speaking of which, Chantel released her latest single, "Attractive (Prod. by Luigi)", just a few weeks ago. On top of that, she has already released a new EP (Thank you, Auntie) and another single ("Start Over"). Find the new single at cassiechantel.bandcamp.com and everything else via major streaming services. Follow her on cassiechantel.com and discover The Burning Suns on theburningsunmusic.bandcamp.com. For all things Rabbit Hole, please visit rabbitholestudios.org.
DON'T LET ME HEAR YOU TELL LIFE IS TAKING YOU NOWHERE: Pre-orders are now open for the new album named golden years by Parker Gispert (The Whigs). Gispert's most recent album is from 2018 Sunlight tonight. Fans can preview the title track as well as the album's second track "All The Rage", which are respectively a mellow summer pop rocker and a groovy guitar cooker in the spirit of, say, a more contemplative Billy Squire. . Album, cassette and digital versions are all available for pre-order. golden years set for release September 2 courtesy of Normaltown/New West Records. He will then play locally on August 26 at 40 Watt.
I'll tell her everything I can: There has been a steady succession of almost anonymous artists who have passed through my office recently and, more often than not, they have been an absolute treat to hear. The last such case is a passing guy river man and just released a seven-track collection of old and new demos. The EP is self-titled, but honestly, it feels less like a case of deliberately creating an EP than a case of emptying the shelves. As you'd expect from his nickname, there's a strong Nick Drake influence at work here, but it also touches Jeff Buckley. However, neither are so prominent that River Man owes his art to either. This is just a superbly enjoyable collection of what are supposed to be relatively unfinished works – they are demos, after all – and I'm glad I stumbled upon it. Find it at riverman3.bandcamp.com.
SCREEN TIME: Performer from Athens and winner of the Vic Chesnutt Award for Songwriter of the Year 2022 Elijah Johnstonfresh off his album Day off in January, is back with a new set of tracks. This new disc, however, is an original soundtrack of an independent film named Uncle Honker. I mean, the thing is titled Uncle Honker (Official Movie Soundtrack), after all. I haven't sat through the movie yet and can't begin to explain what it's about, but you can see it for yourself online at vimeo.com/682892635. Johnston's music here is delightfully experimental and moves away from his normally free-flowing production style to something far more local and, seemingly, practical. "Honker Waltz" and "Dream Song" are particularly charming. Dig this at elijahjohnston.bandcamp.com and follow all other information via facebook.com/elijahmjohnston.
MEANING AND METHODS: Wim Tapley and the cannons releases his new single "Punch" last Friday, and you can find it on all streaming services. The gently pinched, acoustic-based number rides a sweet wave of almost blue-eyed soul but imbued with a solid participation in the new wave of 21st century sincerity. This thing sneaks up on you too, with an arrangement that builds so slowly – yet powerfully and confidently – just when you've settled into a section, the band takes the stakes higher. Wim Tapley himself released his latest feature film, Woodsin 2020. To find his older work like this, please see wimtapley.bandcamp.com, and if it turns out he decided to put the new single there too, then great.
EVERYBODY LOAD: The Hargrett Rare Book and Manuscript Library will host a family day at the Richard B. Russell Jr. Special Collections Libraries Building (300 S. Hull St.) to highlight the new exhibit – mentioned last week in this column – "Georgia on My Mind: Finding Belonging in History of This event takes place on Saturday, August 13 from 1 to 4 p.m. Participants can enjoy lessons (including singing, dancing, movement, and instrumental playing) courtesy of Cathy Rumfelt of Allegro Athens. The library notes that people will also be able to enjoy and explore the exhibit by participating in a scavenger hunt and enjoying immersive storytelling in the gallery. This event is free and open to the public. Additionally, free parking is available on the Hull Street Bridge, directly across from the Special Collections Libraries. For more information, please contact Jess Brown at jmb18449@uga.edu or 706-542-6367.
Do you like what you just read? Support Flagpole by donating today. Every dollar you donate helps fund our continued mission to provide Athens with quality, independent journalism.