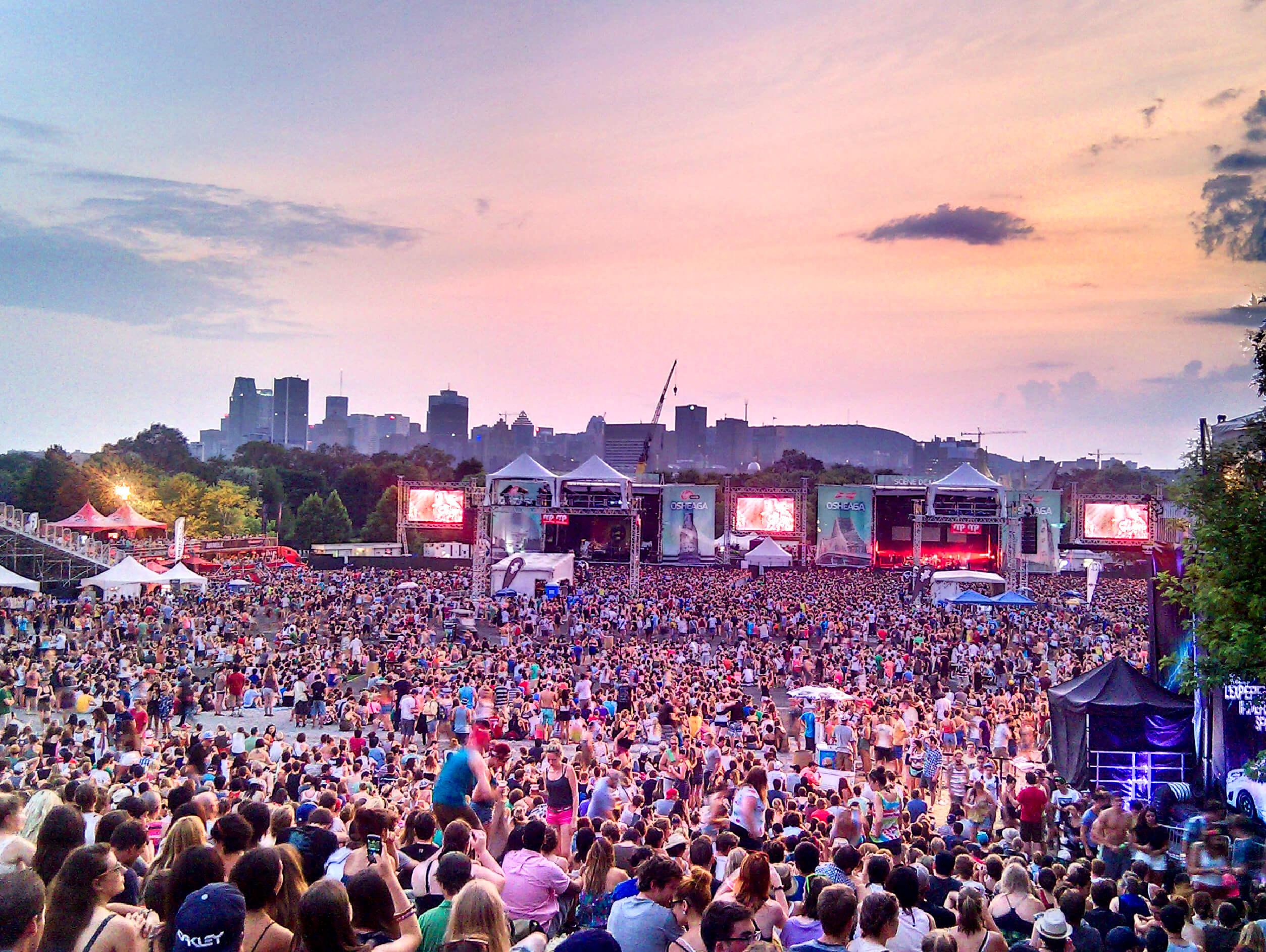 The music industry changes its mind on climate change
"No music on a dead planet."
Since 2019, this slogan has been a rallying cry for the music industry. It's been amplified by major artists like Billie Eilish, Tame Impala's Kevin Parker, and Radiohead's Thom Yorke, who have worn or designed shirts with these doomsday words. It appears on the backdrops of arena tours, on red carpets at award shows, on album compilations and playlists.
The slogan is part of a campaign by global non-profit organization Music Declares Emergency (MDE), which has brought together high-profile musicians across the globe to pledge action on the climate crisis.
But as festivals are canceled due to wildfires, bands are forced to reorient their tours due to road flooding, and large outdoor gigs become major heat stroke risks, the music industry music begins to wake up with urgent omens. More than just a fad, the sector's eco-enthusiasm must be accompanied by concrete and identifiable actions. They have to do it together – not just the musicians on stage, but also the promoters, labels, record manufacturers, merchandisers, concert organizers and record labels. And they need to do it quickly.
Late last year, in the wake of COP26, the UK Association of Independent Music launched the Music Climate Pact, which was signed by all three major labels – Universal, Warner and Sony – as well than big independents like Secretly Group and Ninja Tune. Agreeing to work collectively, the pact includes a commitment from each signatory to reduce greenhouse gas emissions to net zero by 2050 and to achieve a 50% reduction by 2030.
For an industry with many interdependent stakeholders, which relies on large amounts of energy-intensive manufacturing, streaming and travel, the challenge is to determine how to achieve agreed goals.
"Being green and sustainable is a shared value for a lot of people in the music industry, but no one really knows how to do it," says Ben Swanson, co-founder of Bloomington-based record label Secretly Canadian and Secretly. in Indiana. Group, which also represents other major US independent labels, including Jagjaguwar, Numero Group and Dead Oceans. "In terms of implementation, it's still a relatively new concept."
Swanson and his colleagues at Secretly Canadian have tried various eco-friendly initiatives over the years, including minimizing product packaging and avoiding pressing more CDs and records than they can sell (with a few "missteps") , admits Swanson), but they always wanted to be more strategic and intentional about it.
So last year, on the label's 25th anniversary, they hired climate consultant Jen Cregar of Terra Lumina and released an official sustainability plan. In it, they calculated their actual carbon footprint (116 MTCO2e, or metric tons of carbon dioxide equivalent, in 2021) and pledged to become "carbon negative" by their 30th anniversary in 2026 – a goal more ambitious than the Music Climate Pact they also signed.
Swanson admits it won't be a perfect estimate, but keeping track and being transparent about the numbers will make it easier for them to improve, both for themselves and others who follow in their footsteps.
As an example, he cites Big Time, the 2022 album by singer-songwriter Angel Olsen. In an effort to create a carbon-negative album release, they calculated the "cradle-to-grave" carbon impact of a CD and vinyl LP, from manufacturing to shipping, from its life in a fan's stereo to its likely later life in a landfill 100 years from now. With a quantifiable number, they then priced in carbon offsets supporting the Medford Spring Grassland Conservation Project in Bent County, Colorado. Compensation is an inexact science, admits Swanson, and it's not as sustainable as avoiding the release in the first place, but it does create a repeatable — and improvable — pattern for future releases from their label and others.
"Being green is a value shared by many people in the music industry, but no one really knows how to do it."

—Ben Swanson, group secretly
Secretly Group was part of a panel at the Canadian Music Climate Summit in Toronto earlier this fall on labels and sustainability. Organized by the Canadian wing of MDE, the summit was a one-day conference and concert prior to November's COP27 in Egypt. With panels on green touring and gigging, the role of artists, funding and diversity, and a keynote address from David Suzuki, it aimed to give musicians the tools to take action in their own practices – which is what 'they're often hesitant to do for fear of being labeled hypocrites, given their touring lifestyle.
But, more importantly, it was an attempt to bring the "right people into the room", says organizer and climate activist Kim Fry. "Musicians, for the most part, are on board," she says. "It's the labels, the managers, the tour managers, the venues."
She knows him firsthand through her daughter, Brighid Fry, one of MDE Canada's co-founders. Her folk-rock duo, Housewife (formerly Moscow Apartment), have made sustainability an integral part of their practice. But as an emerging act, led by two 20-year-old women, they lack the power to enact big, sweeping changes at a structural level. However, they use the power they have, especially when it comes to advocacy. Last year, Brighid co-wrote an open letter to Prime Minister Justin Trudeau, and this year she wrote a similar one aimed at decision-makers behind the scenes in the music industry, asking them to use their power for climate action.
"I don't think there's really any excuse [not to]," she says. "Because if people on the public side of the industry want it and the public wants it, then why isn't it being followed behind the scenes?"
As an artist, she can do things like use green jumpers – ask for sustainable options like refillable water options both front and backstage and strongly encourage venues to use renewable energy. She can negotiate a durability clause in her recording contract. She can work with t-shirt makers who use water-based ink and closed-loop manufacturing. All are recommendations from MDE's Music Industry Climate Pack, which offers 10 steps to sustainability for artists, venues, merchandise, labels, tours and fans. But if venues, promoters, engineers, labels, lawyers, audiences and multinational corporations don't cooperate, there's not much that performers can do.
While big pop stars can afford to rent or buy electric tour buses and fight radius clauses that limit running multiple shows in one market, it's harder and more expensive for small groups. And these major acts have a much larger carbon footprint. After being identified as a group with one of the largest carbon footprints, the members of Coldplay took a break from touring in 2019 until they could figure out how their tour "can't just be sustainable. [but] how can it be actively beneficial. Earlier this year, Coldplay announced that its air travel would be fueled by green jet fuel, but was later accused of green laundering for its partnership with Neste, whose controversial "sustainable aviation fuel" may not be entirely green.
Even if a stadium number takes an electric bus to a concert, it must also consider the travel of tens and hundreds of thousands of fans to get there. (Some encouraged fans with contests, discounts and other initiatives to carpool or use public transport.)
Building on the work done by UK organization Julie's Bicycle over the past decade, the Center for Sustainable Practice in the Arts recently launched Creative Green Tools Canada – a free, user-friendly interface for calculating the carbon footprint of a tour, concert or festival. Devon Hardy, the program's director, says she hopes it will standardize show tracking for music events. "Even the simple act of collecting this data can make people more aware of their behaviors and begin to change them," she wrote in an email.
One of the goals of the Toronto Music Climate Summit was to raise awareness of tools like these, says Kim Fry. Many players in the Canadian music industry do not look beyond traditional arts funders such as SOCAN to realize that the federal government has money for green initiatives. The Department of Transportation's Zero-Emission Vehicle Infrastructure Program, for example, has funding that could be used for tourist travel.
In general, Canada lags behind other countries like the UK, Australia and even the US when it comes to sustainability in the music industry, Fry argues. There are a few potential reasons for this. Touring is more difficult in Canada because it's so geographically dispersed. The industry is small and slow to change. And many of the major events and awards shows are sponsored by Canada's major banks, which are among the biggest investors in carbon-burning oil and gas projects.
"If the music industry thinks it's immune to climate impacts, it's so naïve," she says. "We want them to understand the gravity of the emergency we are all facing."
Richard Trapunski is the former Associate Music Editor of Toronto's NOW magazine and reports on culture and business for various publications.